The Day
Morgane Dziurla-Petit | Sweden/France | 2017 | 25 minutes
Paris, 7th of May 2017, day of the results of the french presidential elections. During this historic evening, the paths of four people intertwine each other while Europe is divided. Marie, a young student, Louis, a thirty-year-old Parisian, Rheda, a young man from the suburbs and Sylvie, a woman from the countryside being in Paris for the weekend with her husband. They share different political opinions, some voting for Marine Le Pen, others sharing a different hope for France. In the midst of this, lies their misunderstanding for each other. Their paths will intersect until they find themselves in the early morning still facing the unknown but being now in front of a new rising sun.
Premiered at Gothenburg Film Festival 2018, distributed by Eroïn.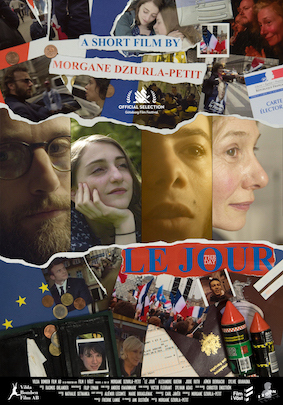 Born in France, Morgane Dziurla-Petit studied cinema at La Sorbonne Nouvelle in Paris, and then film production in Cannes. She discovers even more about cinema's world during her professional experiences at the Cannes Film Festival and Roy Andersson Filmproduktion.
In 2016, she traveled to Tokyo, shooting the art video Memories of Another I, using self generative editing.
She moved to Sweden in 2017, where she works for Vilda Bomben Film AB. Here, she keeps on creating new narratives, moving borders between documentary and fiction. Her first short film Le Jour (2018) has been selected by the 41st Göteborg International Film Festival and the label Eroïn.